There are some things you'll always be able to rely on. With Dolphin, its quality, reliability and convenience. But mostly, it's knowing that your pool will be providing endless hours of enjoyment – whenever your family is ready. Dolphin gives you real peace of mind.
Residential Pool Cleaners

Dolphin pool cleaners offer the most efficient and cost-effective method for achieving a consistently clean pool. Unlike pressure and suction pool cleaners, which depend on an external pump and filter, Dolphin robotic pool cleaners get their power from a standard outlet and have their own pool filtration system. Moving freely around the pool, Dolphin robots remove debris and dust from the water while scrubbing the pool floor, walls and waterline with an advanced pool brushing system.

Dolphin robotic pool cleaners clean any type or shape of pool -- efficiently and thoroughly. No other automatic, residential pool cleaner comes close to Dolphin robots' ease of use, performance and reliability – delivering years of cost effective pool cleaning.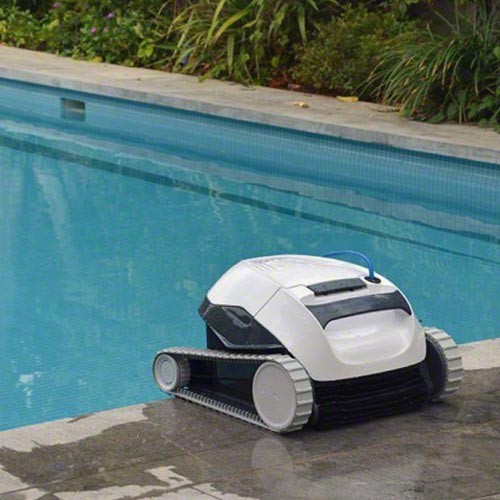 Above-Ground Classification

Above Ground robots are designed specifically to be used in above-ground pools of all shapes and sizes. These units utilize the same algorithmic scanning technology as is found in Maytronics' in-ground cleaners, packaged in a compact, lightweight body that is easy to lift into and out of the pool. With advanced floor and cove scrubbing and high-capacity filtration, the Above Ground Class robots deliver the best, most thorough cleaning for above-ground pools in the industry.

CleverClean™ scanning and navigation

Active scrubbing brush

Easy-clean, single-level filtration

Energy-efficient power supply

Easy-lift, fast water release

Standard Classification

The Standard Class is our most economical line of cleaners providing value driven performance. It's a great, affordable way to a clean, clear and healthy pool. The Standard Line incorporates some of the world class navigation and cleaning technology from the Classic and Premium Lines into a no-frills, yet thoughtfully designed robotic cleaner. Best suited for standard pool shapes, the Standard Line offers powerful cleaning at attractive prices.

CleverClean™ scanning and navigation

Active scrubbing brush

Easy-clean, dual-level filtration

Energy-efficient, multi-function power supply

Easy-lift, fast water release