may not be exactly as shown

Auto Chlorinator

Efficient and maintenance-free, these durable, corrosion proof automatic chlorinators and brominators are ideal for new or existing pools or spas and work automatically with your pump and filter system.
Nature2 Fusion Inground
This combination sanitizer brings the benefits of Nature2 mineral technology together with a convenient chlorine tab feeder.
Minerals + Chlorine unite
Nature2 Fusion In-ground is the ultimate chlorine and mineral sanitizing system for in-ground and aboveground pools. By combining patented Nature2 mineral technology with an automatic chlorine tab feeder, Nature2 Fusion In-ground delivers water that is noticeably cleaner, clearer, and softer. Nature2 is proven to destroy bacteria and control algae, so your pool water will be sparkling clean without having to add extra chemicals. Nature2 is a natural supplement to chlorine, so it helps maximize chlorine investment, while reducing the annoying and harmful effects of harch chemical use. No other system is this complete or easy to install, use, and maintain. With Nature2 Fusion In-Ground, you are just a few simple steps away from perfect pool water, naturally.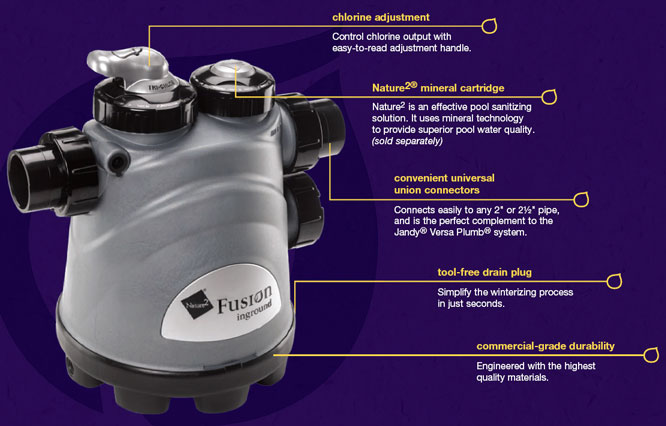 Features
•Easy to install and compatible with most swimming pool filtration systems
•Mineral sanitizer and chlorine dispenser in one
•Destroys bacteria and controls algae
•Cleaner, clearer, softer water and maximizes your chlorine investment
•Control chlorine output with easy-to-read adjustment handle

Technical Details
•Holds ten 3" trichlor tabs, or four punds of 1" trichlor tabs
•Utilizes our standard 2" x 2½" Universal Unions
•Engineered to commercial standards