Categories
Product Description
Java 52" Aboveground Pool
Let the Java's distinguished sleek looks and attractive silver grey color turn your backyard into an enchanting environment. This hybrid combination of steel uprights with metallic finish and the Synflex resin injection-molded top ledges, ledge & foot covers, offers this pool the highest quality in manufacturing and visual style.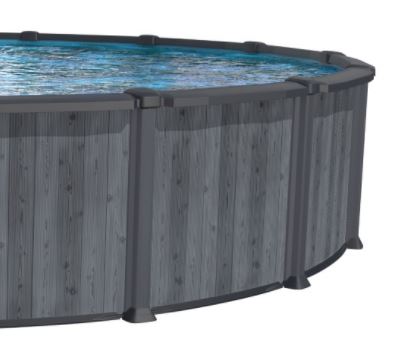 This pool is designed and warrantied for salt water.
Robust injection molded Synflex resin structure
Steel wall finished with Duratex 2000 anticorrosion paint
Internal wall protected against humidity and chemicals
7.5" Curved Synflex resin top seats
Uprights made of treated steel and reinforced with an oversized design that insure stabilization of the seats
1 1/4" Synflex resin top tracks
1.5" Synflex resin bottom tracks
Rigid outside connectors made of 100% Synflex resin including top and bottom plates
Buttress-free ovals
All pool come equipped with the standard accessories with the option to upgrade or purchase any of the optional accessories.

AIRMILES are NOW Available on All Aboveground Pools

25% non-refundable deposit required to order. All prices are subject to HST. All pools require a permit which is customer's responsibility. Prices are subject to change without notice.
This pool is warrantied for salt use. Aqua Blue does not offer installation services.
Many upgrades and promotions are available with the purchase of an aboveground pool, call store for details.
Downloads

Round Installation
- (Abode Acrobat; 4MB)

Oval Installation Manual
- (Abode Acrobat; 14MB)