Automatic Suction Cleaners | Vacuums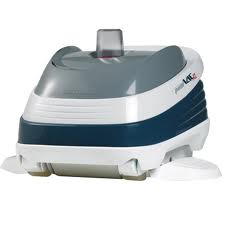 Pool Vac XL | Navigator
Pool Vac XL's exclusive AquaPilot® programmed steering pattern moves the cleaner silently in a predetermined series of turns for more thorough cleaning and is powered by an existing filtration system so pool owners don't have the expense of an energy-consuming booster pump.

•Exclusive AquaPilot programmed steering pattern assures thorough pool coverage
•Powered by your existing filtration system
•No additional equipment required
•Easy to use - Connects in less than 10 minutes to skimmer or suction port
•Turbine Technology - Operates silently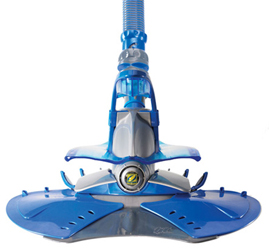 Baracuda X7
The Baracuda X7 Quattro is an inspired blend of sleek design and advanced technology resulting in unparalleled performance. From its innovative QTC System (Quattro Traction Control) to a completely re-engineered "One Moving Part" diaphragm, the X7 Quattro stands alone as the cutting edge solution for pool cleaning. Powered by your pool's existing filtration system, the X7 Quattro has the agility to climb 90 degree sheer side walls and the mobility to navigate pool surfaces faster and more efficiently. Built to last, the X7 Quattro is well constructed from materials that will stand up to submersion in harsh chemical environments and perform tirelessly, 7 days a week, 365 days a year.

When it comes to thorough pool cleaning, the QTC System delivers a performance advantage where you need it most. Four independent flexible discs move the X7 Quattro beyond traditional mobility, while creating maximum suction and adhesion in tight corners and on the pool surface.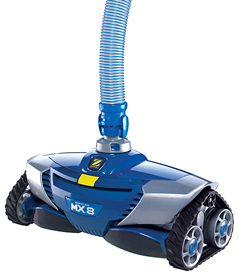 Zodiac MX 8
Ultra-Efficient Suction Pool Cleaning Robot

Combat debris with the Zodiac MX 8, ultra-efficient suction pool cleaning robot that cleans faster and more aggressively than any cleaner in its class. It utilizes Cyclonic Suction technology to capture maximum debris while maintaining cleaning power. The Zodiac MX 8 features X-Drive navigation intelligence for X-treme floor and wall cleaning. No more time wasted battling a filthy pool. Eliminate your call of duty and claim victory over debris.