Energy Efficient Pool Automation
Create the perfect backyard environment, with the simple touch of a button control the temperature, water level, lighting and filtering of your pool and spa as well as many other automated features in your outdoor retreat. Simply program your desired settings and watch the magic happen. The best part is you can do all these things from inside your house.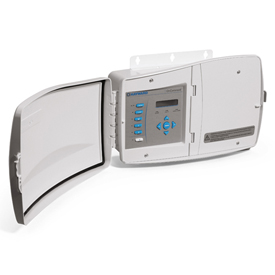 On Command Pool Automation
It doesn't matter how simple or elaborate a swimming pool is, they're all made to relax in, not work on. That's why we've introduced OnCommand™. It brings the luxury of automating pool, spa and other backyard functions to owners who thought that pool automation was unaffordable.
OnCommand is particularly well suited for pool and spa upgrades or retrofits. It was designed specifically for homeowners who already have or don't need an electrical subpanel on the pool pad – at a substantial savings over competitive controllers. OnCommand provides a full range of automation features, including the ability to manage energy saving equipment, such as EcoStar variable speed pumps. Automating tasks with an OnCommand can pay for the unit within one pool season, by saving up to 90 percent on energy costs.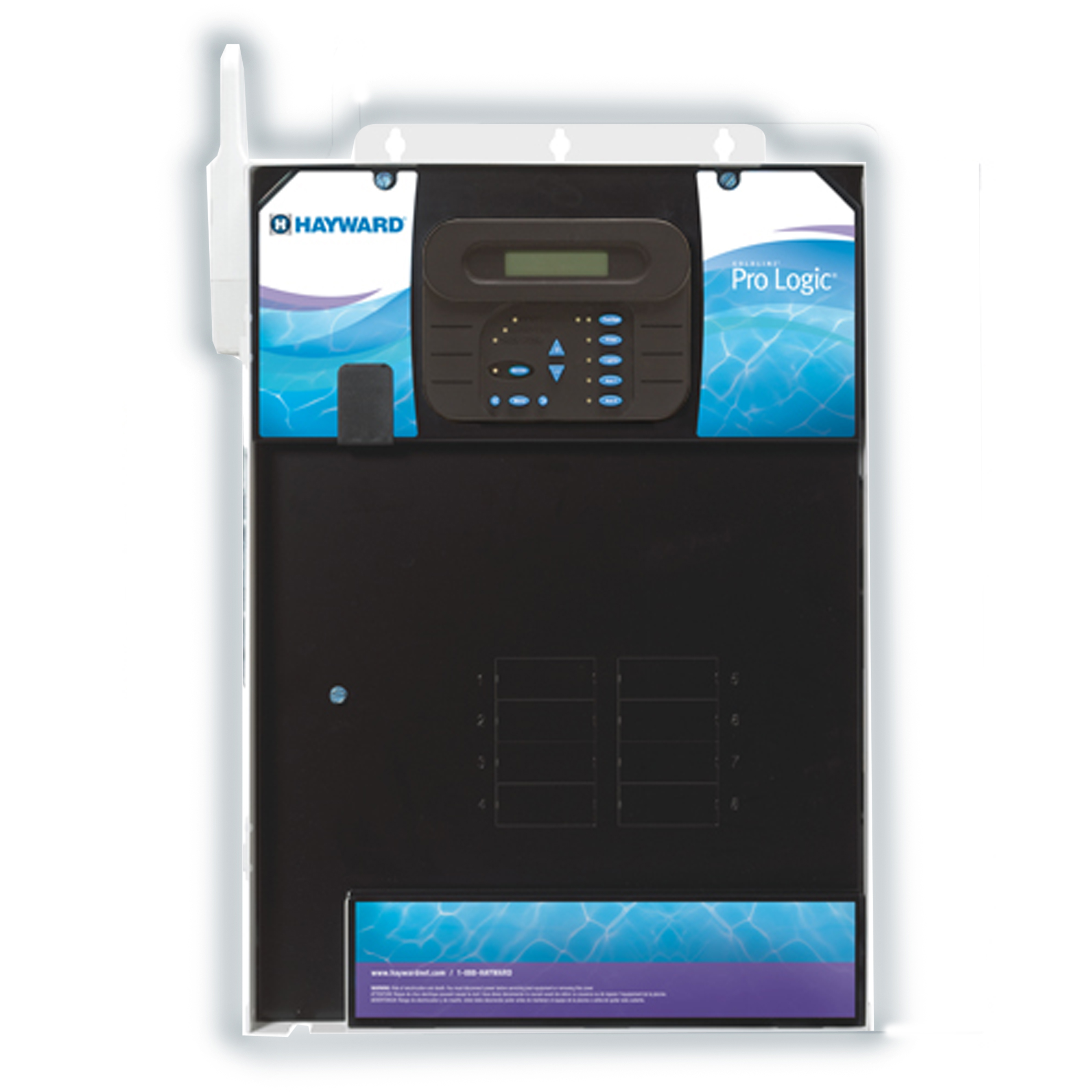 Pro Logic Pool Automation
Wouldn't it be great if with the simple touch of a button you could control your pool and spa water temperature, lighting, pH, filtering...and more? Pro Logic® the energy solution to complete pool automation is a scalable, flexible Total Pool Management control that makes all this reality.
Pro Logic takes the work out of owning a pool and spa. The total pool chemistry continuously senses ORP and pH levels and dispenses a self-renewing supply of fresh, natural chlorine, generated from ordinary salt and controls pH delivering the most consistent water quality possible.
It automates cleaning and filtration schedules to run at off-peak hours for significant energy cost reductions. Its off-peak programming reduces the demand on the power grid and therefore lowers the energy rate. By managing your EcoStar Variable-speed pump it reduces energy consumption by up to 90 percent. And for the ultimate energy conservation, it uses solar water heat control.
Serving truly user-friendly, energy efficient, and cost-effective automation, it is also compatible with your existing equipment pad. All this provides a total tranquil get-away in your own backyard. Envision your picture perfect pool environment. Now envision Pro Logic as the brains behind your enjoyment and forget about mixing and measuring chemicals ever again.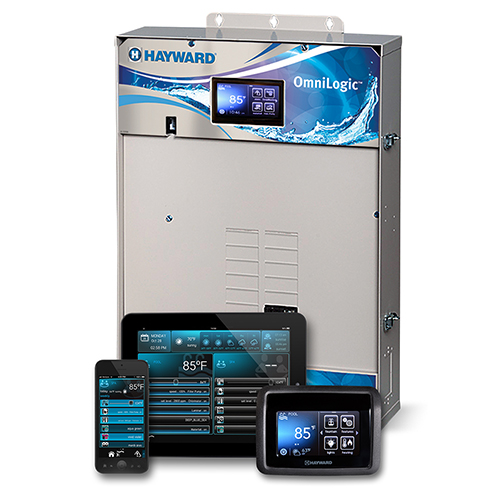 OmniLogic Pool Automation
Introducing OmniLogic-the simplest, most intuitive backyard automation system ever.
Designed to minimize maintenance and make your backyard paradise easy to enjoy, OmniLogic was built to meet your needs. With OmniLogic, you can expect to:
Eliminate complexity. With the most intuitive, icon-based user interface on the market right on the base unit, set your controller to fit YOUR needs and preferences quickly and easily. Setting up familiar names for pool and spa features, as well as other automated activities eliminates guessing games.
Customize to fit your lifestyle. Adjustable Favorites buttons allow you to set the features you use the most at your fingertips. And with dramatically expanded backyard themes, each family member has the ability to personalize themes for custom ambiance.

Minimize Maintenance.Designed to be salt-ready, and compatible with Sense & Dispense, let OmniLogic keep your chemicals perfectly balanced. Easily set schedules and maximize energy efficiency for cleaning and filtration processes.

Easily Expand. Thinking about adding a water feature? Possibly more landscape lighting? OmniLogic can accommodate you. With simple expansion hardware, it's easy to seamlessly add features – from heaters to pumps to lighting.

Stay Cutting Edge. OmniLogic is designed and engineered to advance with automation technology. The system's unique architecture allows for effortless access to the latest software upgrades, new capabilities, or even restoration of previous configurations.

Conveniently control your world.Seamlessly access your backyard via your mobile device, smart tablet, home network, wireless and wired remotes, or the base unit itself depending on where you are or what you're doing.

When you choose OmniLogic, you choose sophisticated simplicity. You choose to not only make your backyard easier to maintain, but easier to enjoy.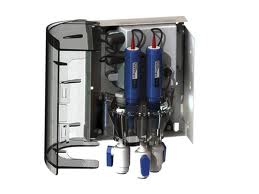 Sense and Dispense Pool Automation
What if your inground pool could self adjust, automatically test its own chemistry, and balance and sanitize your water? What if it always knew what the water needed and adjusted continuously, eliminating unhealthy highs and lows? Ensuring brilliant, balanced water all the time, automatically. You can get your water and maintenance time in balance with Goldline Controls®.
This professional-grade ORP and pH sense-and-dispense technology was previously only available for commercial pools. Goldline Controls now offers an economical approach, with the same level of accuracy, for residential pools. Unlike others on the market, Sense and Dispense uses a proportional feed algorithm that continuously tests the water, sampling pH and sanitizer activity, and adjusting chemical feeding on a basis proportional to the demand. Other approaches don't sample the water often enough and release larger doses, which is far less effective and can create highs and lows similar to a manual approach.
Adding the Sense and Dispense option to your Pro Logic®*, is a fully integrated solution – not an additional box that resides on your pool pad – eliminating additional installation costs. It also provides a single source for status reporting and control.
Sense and Dispense consists of two kits. The first kit senses pH and ORP levels and dispenses a self-renewing supply of pure chlorine generated from salt. pH dispense can be achieved using the second kit, which includes a manifold that connects to a CO2 tank. CO2 is highly effective in lowering pH. With salt-chlorinated pools, pH tends to drift up. CO2 reduces pH to recommended levels by forming H2CO3 (carbonic acid), a safe acid that does not require handling. As an alternative to CO2, Sense and Dispense also supports commercially available peristaltic acid pumps. This approach does not require the second kit to manage pH.
* Requires optional salt chlorination kit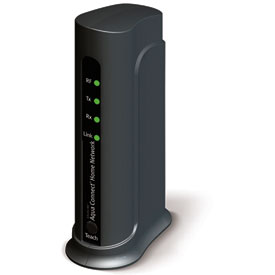 Aqua Connect
Hayward Aqua Connect gives you three ways to manage every essential pool, spa and backyard function. Simply choose the Aqua Connect system that fits your individual needs. Aqua Connect Web allows you to manage your pool via the Internet from anywhere. Aqua Connect Home Network communicates with web-enabled computers or handheld, WiFi devices in your home to control all pool functions. Aqua Connect Home Automation allows your pool and spa controller to interface seamlessly with your home automation system so that one keypad or display panel can handle your pool, home theater equipment, security, lighting and more.

At home or on the road, you can monitor pool and spa settings, adjust parameters and receive an automatic alert if a problem is detected. You can manage pH and sanitization to achieve the perfect water chemistry, turn up the spa heater before you head home from work, turn lights on and off, activate waterfalls and more, all while conserving energy.
Anything you can do from your pool controller, you can now do anywhere. This level of control also enables you to reduce operating costs by keeping chemical use to a minimum, avoiding potential problems before they become major and keeping heat low until you need it.